Fishkeeper Fry Flex 57 Black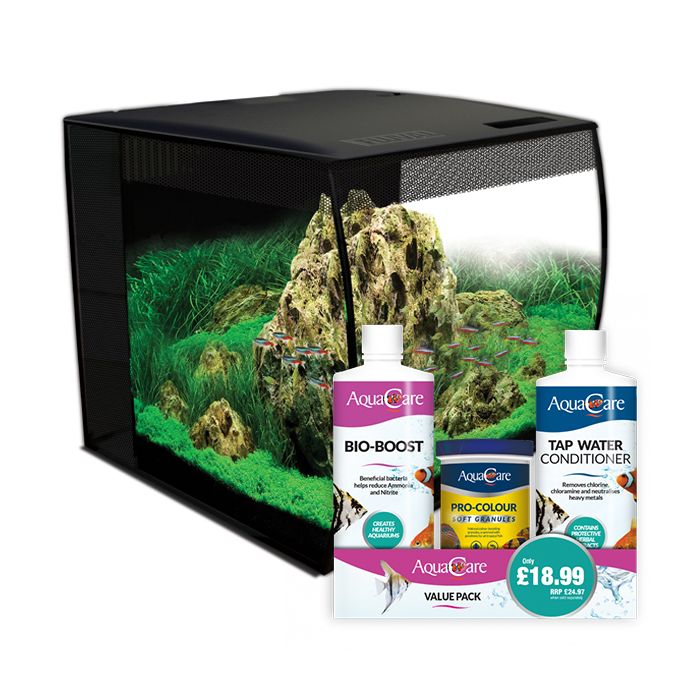 Brilliant Illumination
Fluval Flex comes with a Flex pad remote control which conveniently controls a wide range of colours as well as fun special effects including faded cloud cover and lightning bolts, allowing you to customise your aquatic universe according to your mood!
Multi-Stage Filtration
Flex features a separate rear compartment camouflaged by a honeycomb print to house its multi-stage filtration for optimal water clarity.
Convenient Features
Flex comes compact with several great features including its easy feed large cut out opening for simple feeding. Its multi-directional dual output nozzles mean the tank water flow can be adjusted to depending on your tank setup.
Key Features :
7500K LED lamp supports plant growth and enhances fish colors
Fully adjustable White + RGB LEDs for endless color blends
FLEXPad remote can also control fun special effects (i.e. fading cloud cover, lightning bolts)
Powerful 3-stage filtration for superior water quality
Oversized mechanical (foam), chemical (carbon) and biological (Biomax) media included
Multi-directional dual outputs for customized water flow
Hidden rear filter compartment
Stylish honeycomb wrap conceals water line and sides of rear compartment
Easy feed top cover opening
Bold curved front design
For freshwater use only
| | |
| --- | --- |
| Height | 41cm |
| Width | 39cm |
| Depth | 39cm |
| Volume | 57 litres |
| Filter Flow Rate | 500 lph |
| Lighting | 10.8w LED |
Fishkeeper Fry Flex 57 Black