Trichopodus pectoralis
Gallery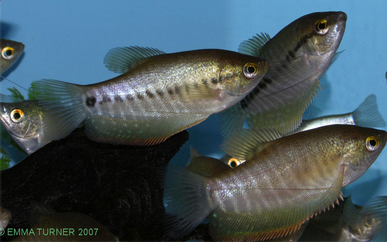 Overview
| | |
| --- | --- |
| Synonyms | Trichogaster pectoralis |
| Distribution | Cambodia, Laos, Myanmar, Thailand and Vietnam. Introduced to many other countries. |
| Sexual Dimorphism | Males have pointed dorsal fins and the pelvic fins are orange-red. |
| Maximum Size | 25cm (10") |
| Water Parameters | Will acclimatise to a wide range of conditions. pH: 6.0-8.0, dH: up to 20 degrees. |
| Temperature | 23-28 deg C (73-82 deg F) |
| Compatibility | Large fish community |
| Lighting | No special requirements |
Description
Care
A hardy, peaceful fish that is suitable for community aquariums of a good size. In the wild these fish inhabit the relatively slow-moving waters of heavily vegetated shallow ponds, flooded forests, rice paddies and swamps. Therefore, in the aquarium, these fish will appreciate a good amount of plant cover and a gentle flow. The plants that you choose should either be of a robust nature or else fast-growing species, as Snakeskin Gouramis do like greenfood in their diet. Ensure that there is a small gap between the water's surface and the coverslides as this species is able to breathe atmospheric air (which should not be cold).


Feeding
Flake, green flake, slow-sinking pellets, frozen foods such as mosquito larvae, brineshrimp, Mysis shrimp etc.


Breeding
Be aware that if you intend to breed this species, brood sizes can be very large! A conditioned pair should be added to a shallow planted breeding tank. The male will construct a small bubblenest either at the water's surface or on the underside of plant leaves near to the surface. During the spawning process the female will release up to 5000 eggs which the male fertilises instantaneously. Most of these eggs should float up into the bubblenest where they will remain until, after 36 hours, they hatch into tiny wrigglers. After a further 72 hours, the fry will have become free-swimming and can be offered small first foods. In most cases, it appears that it is not necessary to remove the parents after spawning as thy do not predate on the eggs/fry. It is very important to maintain a warm layer of air between the surface of the water and the coverslides at all times whilst the fish are developing their labyrinth organ, critical during the first few weeks.