Xiphophorus helleri
Gallery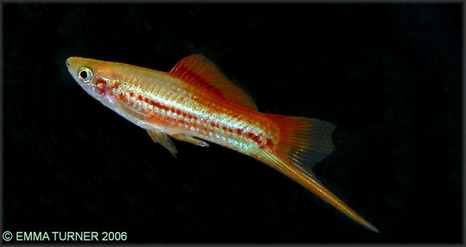 Overview
| | |
| --- | --- |
| Synonyms | Xiphophorus brevis, Xiphophorus guentheri, Xiphophorus helleri guentheri, Xiphophorus jalapae, Xiphophorus rachovii, Xiphophorus strigatus |
| Distribution | North & Central America. Has been introduced to other countries. Most specimens offered for sale today are captive-bred. |
| Sexual Dimorphism | Males have a gonopodium, and mature male specimens develop a sword-shaped extension to the tail. |
| Maximum Size | 14cm (5.5") |
| Water Parameters | Captive-bred specimens will acclimatise to a wide range of conditions. pH: 7-8, dH: 8-20 degrees. |
| Temperature | 22-28 deg C (72-82 deg F) |
| Compatibility | Community with no long-finned fish |
| Lighting | No special requirements |
Description
Care
Swordtails require a tank that is a minimum of 3ft in length, and preferably longer, due to their eventual adult size. They can be kept in community aquariums where no tiny fish are present, and they will appreciate plant cover. Males can become quite aggressive towards one another, so it is wise to limit yourself to one male per tank in smaller set-ups, and when keeping a group of mixed sexes, one male to at least two females. There are numerous colour variants available - the fish pictured here is of the Pineapple variety.


Feeding
Swordtails will accept most foods offered. Try to ensure that they receive a good balanced diet of flake (standard and green) plus frozen foods such as mosquito larvae, brineshrimp and daphnia. Soft, fine-leaved plants should be provided for them to graze on.


Breeding
Swordtails are livebearers, and when a mixed group is kept, females tend to give birth every 28 days or so. After insemination, the female will gestate for 24-28 days and produce up to 50 free-swimming fry. The adults will predate on the fry if not separated. However, a few will normally manage to survive onto adulthood when kept in a well planted aquarium with lots of natural hiding places.