Father's Day (16th June, 2019) is just around the corner, and if you are still struggling for gift ideas for your aquatic-loving Dad, you have come to the right place! No matter what your budget, we have put together our top gift ideas to help you say thank you to your Dad this Father's Day.
If purchasing in store, please be sure to call ahead to your local store to check current stock availability of the products you are after.
If you are looking to treat Dad to some new fish or plants for Father's Day, we recommend that you opt for a Maidenhead Aquatics gift card. Questions about compatibility, suitability and whether or not the recipient's aquarium is ready for any new additions all combine to make livestock a tricky proposition when purchased as a surprise gift. What's more, they're far easier to wrap than a Lionfish! Our gift cards are available to purchase in any of our 160+ stores across the UK with any value between £10 and £500 and can be topped up time and time again, making them the perfect gift for your Dad. Alternatively, we have a selection of gift card designs available to buy online in the following amounts: £10 / £20 / £30 / £40 / £50 / £75 / £100.
Help take the pain out of regular aquarium water changes with this compact and powerful self-venting submersible pump that Dad can simply plug in and start changing his tank water straight away with! No more heavy lifting of barrels and buckets, or splashing mess, wet floors and bad backs and what's more it's easy to wrap up!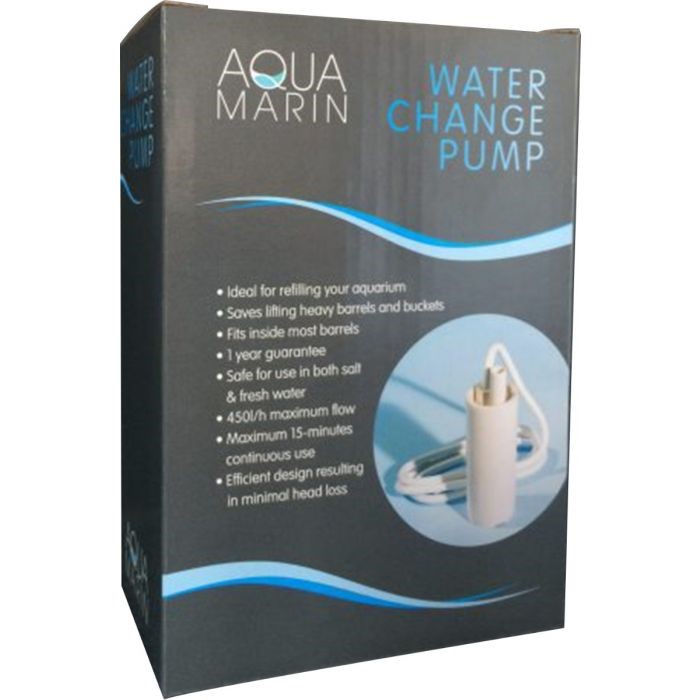 If your Dad is more of a pond fishkeeping enthusiast, what better way to take the strain of keeping his pond clean than giving him the gift of an easy and convenient pond vacuum, enabling him to remove silt and debris without interruption. The Oase PondoVac Classic Pond Vacuum has a maximum suction depth of 2m and a universal nozzle for removing pond debris without sucking up the gravel. Not only that but should the mood take him, its flat nozzle offers the option of trouble-free wet suctioning of residual water and its rubber lips allow for use in the household as a dry vacuum.
What does every avid fishkeeper strive for? Without doubt superb water quality has got to be pretty near the top of the list. This high powered, external canister filter, exclusive to Maidenhead Aquatics, combines multiple filter media to create the perfect balance of mechanical, chemical and biological processes to create healthy water conditions in your aquarium. Not only that, but it is quiet and energy efficient with a quick-release ap system for mess-free maintenance - just what every fishkeeping Dad needs to get on with enjoying the fun parts of the hobby, and with a 4 year guarantee you can be sure your Dad will continue to reap the benefits of the product long after Father's Day has ended.
Okay so bottles of bacteria may not be the first thing you think of when considering the ideal gift for your Dad but be sure he will thank you for them if he is lucky enough to receive a bundle. These little bottles of goodness have been especially formulated by Arka Technologies to balance, treat and encourage optimum habitat conditions in your aquarium so that the fish that live there can thrive and be the very best they can be. With a range of products targeting water care, immune stimulation, plant care and reef care, Microbe Lift treatments are the perfect solution for easier aquarium maintenance with multiple benefits for the health of the fish and the plants that live there.
Again, not an obvious gift butif your Dad is a pond enthusiast, you will no doubt already have experienced the pain that is blanket weed in his pond and the ongoing battle to control it. So, what could be a better way of saying thank you to him on Father's Day than presenting him with a "magic" way of controlling the beast? Rather than removing, or killing, the blanket weed directly, you can remove the source of the growth – phosphate. There are many different products on the market designed to do this, but we would recommend our exclusive Aquapond Care Blanketweed treatment – available online and instore (check current stock availability before heading out to your local store to buy). It is easy to use, safe for all wildlife and extremely effective in binding phosphate in your pond and usually, just one treatment is all you need. Directing your attack on the true source of the blanket weed problem is always the best way forward and is suitable for any and all pond owners.
So simple yet so effective, these handy little magnets make the perfect gift for the fishkeeper in your life all year round. These floating little aquarium cleaners remove unsightly algae from your aquarium's glass without getting your hands wet. This convenient little floating magnet cleans your aquarium and will float if the inner magnet separates from the outer magnet, and because you never have to reach into the aquarium, you stay clean and dry! What's not to like?


As all good fishkeepers know, it's highly important to regularly test the water condition of your aquarium - a negative spike in a usually balanced aquarium can be lethal to your fish. The team of fishkeepers behind AquaCare has developed a new range of exclusive test kits aiming to ensure every fishkeepers aquarium stays balanced and safe. These new tests are super easy to use and understand so any aquarium issues can be picked up and treated quickly.
The perfect combination for happy, healthy fish- and happy, healthy fish mean Dad can focus on enjoying his hobby rather than sorting problems and curing ills! This handy trio brings together tasty fish food, a biological supplement and water conditioner from Maidenhead Aquatics' exclusive AquaCare range and includes:
AquaCare Water Conditioner 120ml
AquaCare Biological Supplement 120ml
AquaCare Tropical Fish Flakes 12g
What to get for the fishkeeper who you think already has everything? How about something completely different in the form of these amazing fish ReefScape Models from TMC depicting some of the ocean's most beautiful creatures as never seen before. Made in conjunction with BrightBricks, the UK's only LEGO® certified professional, you can now collect all sixteen models across three series from your local Maidenhead Aquatics or our online store, from the Blue Spot Stingray to the Lionfish and even the playful Clownfish! Each model includes amazingly true-to-life details and is suitable for keen modellers and aquarists aged fourteen and above.
If you know your Dad has his heart set on some new fish for his pond or aquarium, and you were thinking of treating him to one of our Maidenhead Aquatics gift cards so he can choose his favourite – create a proper parcel for him add in this essential thermal bag to the mix to help him get his new tank resident home.
This reusable and ecological way to transport fish safely, features a special insulated material to keep your fish and invertebrates at a stable temperature, tough handles and a secure zip to allow years of use, blacked out interior to prevent any light shock to the fish when opening the bag and a stable flat base that helps the bag stay safely upright on your journey home. If that's not a compelling enough reason to buy, we have included a printed procedure for introducing new fish into your aquarium or pond on the bag's side so you can be sure the new member of the family arrives in peak condition to its new home.
The PURE Pond Bomb is a unique combination of friendly bacteria and enzymes, which get to work to quickly restore the biological equilibrium of any pond as soon as the Bomb hits the water to clean up organic waste and break down the ammonia and nitrite, leaving your pond crystal clear and healthy. Not only is it effective on ponds up to 20,000 litres, but it is super easy to use and impossible to overdose with. So, Dad can simply drop the PURE bomb in his pond and sit back and enjoy the fruits of his labour while it works its magic boosting water clarity and clearing organic waste.

This unique little container has been designed exclusively for Maidenhead Aquatics to reduce stress when introducing new fish to your aquarium. It very slowly mixes the water that the fish or invertebrates have travelled home in with water from your aquarium; this helps to ensure there is no sudden shock due to a change in temperature, salinity, pH or levels of Nitrate. This stress reduction is very important for all marine fish species such as Dwarf Angels, Anthias, Wrasses, Gobies, and essential for delicate species such as Shrimps and Corals.

Don't forget it you are still stuck for inspiration, you can pop into your local store and chat to any of our friendly staff for any additional ideas and help with gift choices. Check out our local store locations here.