The weather may be a bit changeable as we head into June, but with the luxury of an early bank holiday weekend to look forward to and a range of royal festivities to enjoy for many of us, hopefully warm and sunny weather is just around the corner.
Our stores are open over the extended bank holiday and are well-stocked with a host of beautiful pond plants and a range of amazing livestock for your pond and aquarium so do pop in and see us in between the celebrations.
Pond plants at Maidenhead Aquatics Rutland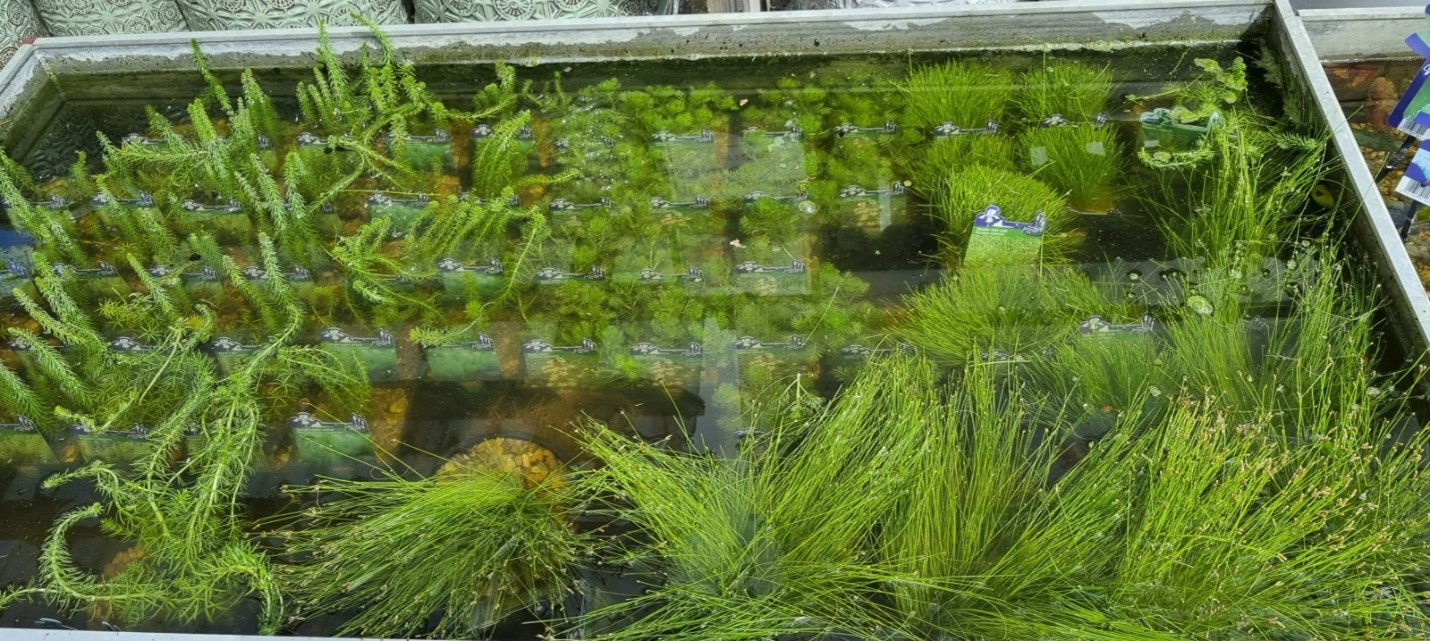 Oxygenator pond plants at Maidenhead Aquatics Rutland

Pond plants displays at Maidenhead Aquatics Guildford
For those of you looking for a new outdoor project now, the days are longer, you might consider the benefits of incorporating a wildlife pond into your home space. Not only does a wildlife pond provide an attractive feature in any garden, but it can be one of the most important things you can proactively do for the environment. During the past century, nearly 70 percent of ponds have been lost from the UK countryside, meaning garden ponds and water features play an increasingly important role for wildlife. Why not create a feature in your garden that is not only a wildlife haven but a feature you can sit back and enjoy on those summer evenings?
Our stores have everything you need to get started with such a project from as little as £24.99 – from pond liner, underlay and pre-formed ponds to fountain pumps, lighting and pond plants- and our store teams will be more than happy to advise on the details of your particular project. You can find everything you need here:
https://www.fishkeeper.co.uk/how-to-create-a-wildlife-pond
Wildlife pond display at Maidenhead Aquatics Cwmbran
Nature pond display at Maidenhead Aquatics Guildford - smaller plastic tub inside to retain the water and the outside as filled with soil and gravel as a shelf to allow for marginal plants. 
For those of you who already have established ponds, now is a great time to get on top of algae growth.
Adding 'summer bedding' to your pond in the shape of the hard-working but tender floating plants such as Water Lettuce (Pistia) will help to starve-out algae by taking up nutrients and providing shade. If they start to yellow, add a liquid pond plant food to top-up iron levels.
We also have a fantastic range of pond treatments such as blanket weed, green water and barley straw treatments available in our exclusive Aqua Pond range which you can buy in our stores and online.
Find out more here: https://www.fishkeeper.co.uk/pond-products?brand=AquaPond%20Care

For those of you who are koi-enthusiasts, just a reminder that our Littlehampton store is holding their Koi Show on Saturday 18th June with an exciting koi auction on the Sunday where you can bid for some of the amazing fish on show. For more information, please contact the store directly on Tel: 01903 724880.
Also on Saturday, June 18th, it is Clean your Aquarium Day.
Obviously, it's important to keep your tank clean throughout the year and not just on June 18th! Not cleaning your tank can lead to some serious problems for fish, including a low oxygen level in the water, illness of the gills, Ick, and overall poor health and sluggishness. Thankfully it's entirely possible to give your fishy friends the very best habitat just by giving it a scrub and clean. You can often offset the build-up over the year by ensuring you have algae eaters, snails, in particular, are good for this purpose, and can help to keep your tank clean and free of algae. In saltwater tanks, there are varieties of shrimp that are perfect for sweeping up the debris in your tank. It just takes a little care! This national event day is simply a reminder of the importance of good tank hygiene.
Why not mark the event by sharing a particularly thorough aquarium cleaning session with us on our Instagram or Facebook page?
We have everything you need to get your tank in tip-top condition here:
It's also that time of year again when Practical Fishkeeping Magazine running their annual Readers' Poll, where you, our loyal customers, can recognise and reward your favourite Maidenhead Aquatics store.
Aquatics stores like ours are often the unsung heroes of the industry, and this has been especially true during the last couple of years with Covid and the resulting lockdowns where we remained open as an essential supplier. Many a staff member risked infection day in and day out just to ensure our customers could get the staples they needed to keep their fish healthy. We'd really appreciate it if you could take just a few minutes to participate in the poll and vote for your local Maidenhead Aquatics stores up and down the country - not only do your comments help share the love for your local store teams but you will also be entered into a prize draw to receive a 90g tub of Fluval Bug Bites Flakes. 
https://mail.practicalfishkeeping.co.uk/p/73DK-4MR/readers-poll-2022
For those of you looking indoors for tank inspiration, take a look at some of these display aquariums from some of our stores this month.
Tank display at Maidenhead Aquatics Big Blue
Aqua Marin catfish display at Maidenhead Aquatics Cadbury
Finally, we'd like to wish her Majesty, The Queen huge congratulations on her Platinum Jubilee from everyone at Maidenhead Aquatics! Thank you Ma'am for your outstanding life of service and duty.