Overview
Although the signs of Spring are not particularly abundant at the moment, Spring is on the horizon and our teams in-store and online are preparing to embrace the start of a new pond season with lots of new pond plants arriving daily as well as the new season pond ranges from all your favourite brands – the perfect excuse to come in and browse your local store.
If you prefer the convenience of ordering your pond plants online, we have an excellent selection of pond plug plants which, although are smaller initially, provide great results longer term, particularly when planted into larger containers where they can enjoy unrestricted growth. You can find out more about these plug plants here: https://www.fishkeeper.co.uk/pond-plant-by-maidenhead-aquatics
Whatever you need this pond season, be sure to visit your local Maidenhead Aquatics store this month for new ideas and inspiration with everything you need to set up a new pond or get an existing pond ready for the brighter days ahead. Our store teams are on hand to help.
Our Stores
We are pleased to announce that our newest store, Maidenhead Aquatics Bridgnorth https://www.fishkeeper.co.uk/storefinder/Bridgnorth/ (formerly Wolverhampton) located within Bridgnorth Garden Centre, will formally open its doors on Monday 14th March.
After many weeks of hard work, we have just received our first delivery of fish, and the brand new shelving is receiving stock on a daily basis. As you walk into the store, a generous aquarium showroom will greet you, featuring a complete range of aquariums from small to big! A large tropical fish house will allow, over time, a vast selection of fish to tempt both the complete beginner, right up to the most advanced aquarist. Similarly, our large pond section will house koi, goldfish and the many varieties of the most popular ornamental pond species along with a fantastic choice of pond plants.
All this, plus a complete portfolio of associated products to keep your aquarium or pond in tip-top condition, this really has everything for the fishkeeper! If you are in the area, please call in and see us.
Our Taunton store https://www.fishkeeper.co.uk/storefinder/taunton/ has been busy working on a new aqua scaping section which, although is still a work in progress, probably offers a wider more varied selection of wood and rock suitable for aquarium use anywhere in the Southwest.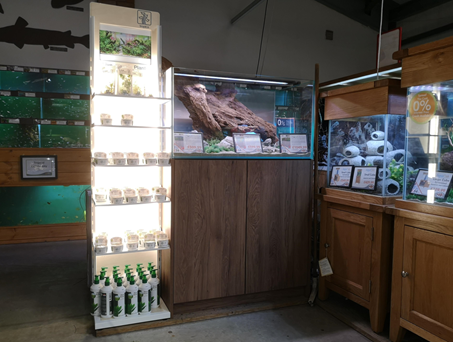 Our Taunton store is also proud to showcase their display aquarium which has been set up in partnership with the local zoo (Tropiquaria), who have loaned them some specimens of a critically endangered livebearer Zoogeniticus tequila – the Tequila Splitfin, which has recently received some publicity due to Chester Zoo having a group released back into the wild in Mexico. Definitely worth a visit if you are in the area.
New Products
If your tank is heavily stocked and has relatively low oxygen levels, you may want to consider adding a spray bar, to agitate the water surface, and encourage water movement which in turn will help dead spots from occurring in the water and assist with nutrient dispersal.
The Fluval FX Spray Bar Kit for FX4 / FX6 is compatible with FX series canister filters, helps oxygenate water through enhanced water agitation, distributes water evenly which is ideal for large planted aquariums or for species that prefer less current. Adjustable and extendable - suitable for a variety of aquarium sizes, versatile positioning.
Take a look at this product in action here: https://www.youtube.com/watch?v=YwxqwNEc_fw
Find out more and buy or reserve yours using our free Click and Collect service here. https://www.fishkeeper.co.uk/fluval-fx-spray-bar-kit-for-fx4-fx6
Fishkeeper Fry Update
Our participating schools have now added 3 species of fish to their aquariums and ensured their water quality was 'tip top' to cover their time away from school over Half Term, as well as using holiday food to keep their fish well-fed while they were away. A number of our schools have now visited their local stores where our store teams were able to show pupils around and answer any questions they had.
Read more about what our schools have been up to here:
https://www.fishkeeper.co.uk/stories/fishkeeper-fry-week-3
https://www.fishkeeper.co.uk/stories/fishkeeper-fry-week-4
LINI
LINI continue to forge on with their excellent work in Indonesia.
In their latest social media update, LINI shared a post about the Giant Triton - Triton Trumpet.
This mollusc (Charonia tritonis) is protected by Indonesian law as it has an important role in coral reef ecosystems, namely as a predator of the Crown of Throne (CoT). Besides CoT, Triton also eats other echinoderms such as Linkia in this photo.
Triton catches its prey with its strong muscles and then anaesthetizes the prey with saliva (paralysing saliva) through its serrated radula.
This photo was taken when the LINI team were monitoring the health of coral reefs in one of the no-take zone areas in Les Village, Tejakula.