Maidenhead Aquatics is pleased to be able to offer a 'Subscribe and Save' service for our customers to have their favourite essential fishkeeping supplies delivered as often as they'd like.
With no commitment, obligation or fees, 'Subscribe and Save' means that you can place your order online once, enjoy the convenience of automatic deliveries set at a time interval that suits you whilst taking advantage of a discounted price for your products, all at the click of a button. You can see the discounted rates for subscribe and save customers on the individual product pages.
Click here for all subscribe & save products
How to Create a Subscribe & Save Order
On eligible products you need to select the 'Subscribe & Save' tab located above the 'Add to Basket' button. As shown, in addition to opting for the convenience of our subscription service, we offer a 10% discount on all products purchased with subscribe and save.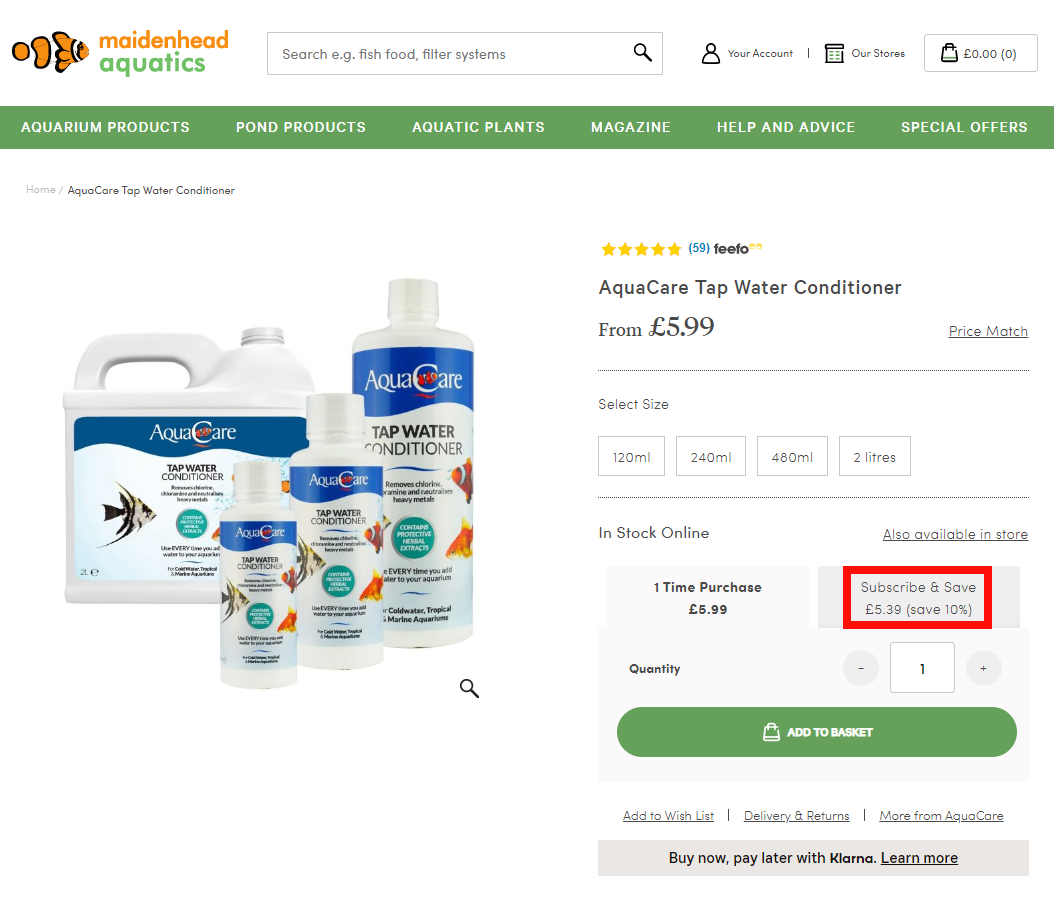 You can then select the quantity you'd like to receive and the frequency you'd like to receive it, and we will send you your parcel as requested at the selected interval automatically!
Just like any other online order, Save & Subscribe orders are eligible for free delivery if over £30. The delivery fee is charged at every repeat order at the interval you selected. Therefore we recommend opting for a larger purchase at less frequent intervals in order to save yourself the delivery cost. So rather than £10 per month (plus postage), a £30 order once every 3 months. That way you will not have to pay postage!
You can add multiple 'Subscribe & Save' products to the basket and select different delivery intervals for each one. HOWEVER delivery charges may still be added for further repeat orders if the cost of the products requested is under £30. The delivery fee is per parcel and NOT per order.
So you can place an order totalling £50 with 5 £10 products with different delivery intervals. This first order will be applicable for free delivery. However if the 5 different items are selected to be sent at 1, 2, 3, 4 and 5 month intervals respectively the following automatic payments will be the price of the product plus the shipping fee as the total of all the items being sent in that each shipment is under £30.
If you have any further questions please do not hesitate to contact us
Click here for all subscribe & save products
Manage your Subscribe & Save Orders
In order to take advantage of this service you need to set up an account. Once you have made a purchase and selected 'Subscribe and Save', you will be able to see all of the information relating to your subscription in 'Your Account' section following the link in the bar at the top of the page.
From here click 'Save & Subscribe' from the options list to see all of your active subscriptions, showing the cost, purchase and renewal dates.
You can click to view active subscriptions individually to see a full breakdown of the items, costs, requested delivery interval, delivery address and payment and shipping methods.
Terms and Conditions:
'Subscribe and Save' is available for online purchases via Fishkeeper.co.uk in the UK only at this time.
Products eligible for 'Subscribe and Save', are listed on our

Subscribe and Save

page, and will show two price options on the product details pages. Please note not all of our online product catalogue is eligible.
To take advantage of 'Subscribe and Save', simply select the 'Subscribe and Save' option when adding the product to your cart on the product detail page.
Payment for 'Subscribe and Save' orders will be taken using the card details provided when you check out for your first subscription.
Further payments for subsequent deliveries will be taken on the same day each month to that you have subscribed on. So, an order placed on the 5th of the month, for a 3-month subscription will automatically charge your card and resend the same product on the 5th of each subsequent month for 3 months or until cancelled.
All orders will be by your chosen delivery method when setting up your subscription and any delivery dates quoted are estimates.
Payment for 'Subscribe and Save' is by card only. Paypal and Klarna finance are not accepted.
Customers can cancel or amend their 'Subscribe and Save' orders at any time, free of charge, after two completed orders.
If you wish to cancel your subscription after your first two deliveries, this can be done either through your Fishkeeper account on our website (accessed by clicking on the 'My Account' link in the top right of your screen)or by contacting us at

[email protected]

. Changes cannot be made after your order has already been shipped.
To change your subscription delivery date, we kindly ask that you call our customer service team on 0203 664 7190 who will be able to action this for you. We are not able to amend the frequency of subscription orders currently, so we will have to cancel your subscription and you will be able to start a new one with your updated frequency selected.
It is not currently possible to pause 'Subscribe and Save' subscriptions, but as payment details are saved, you can cancel your subscription when necessary and then create a new subscription when it is desired without having to input your details again.
If your payment details are not up to date, the order will not be processed or dispatched. If this happens and you need more advice, please call (0203 664 7190) or

email our customer service team

and we will provide you with all the information regarding your policy that you need.
Any damages to a subscription delivery must be reported to us within 48 hours to make a claim against your order.
Standard terms and conditions apply.